Ericssons' Pick of Pine Chairs and Furniture
The pine chair has long been one of the core products for which Ericssons Mattress & Pine has become so well-known. We are a well-supported furniture outlet in the Pretoria and the Jacaranda City's surrounds, the East Rand areas around Johannesburg, as well as significantly further afield, throughout the province of Gauteng and beyond.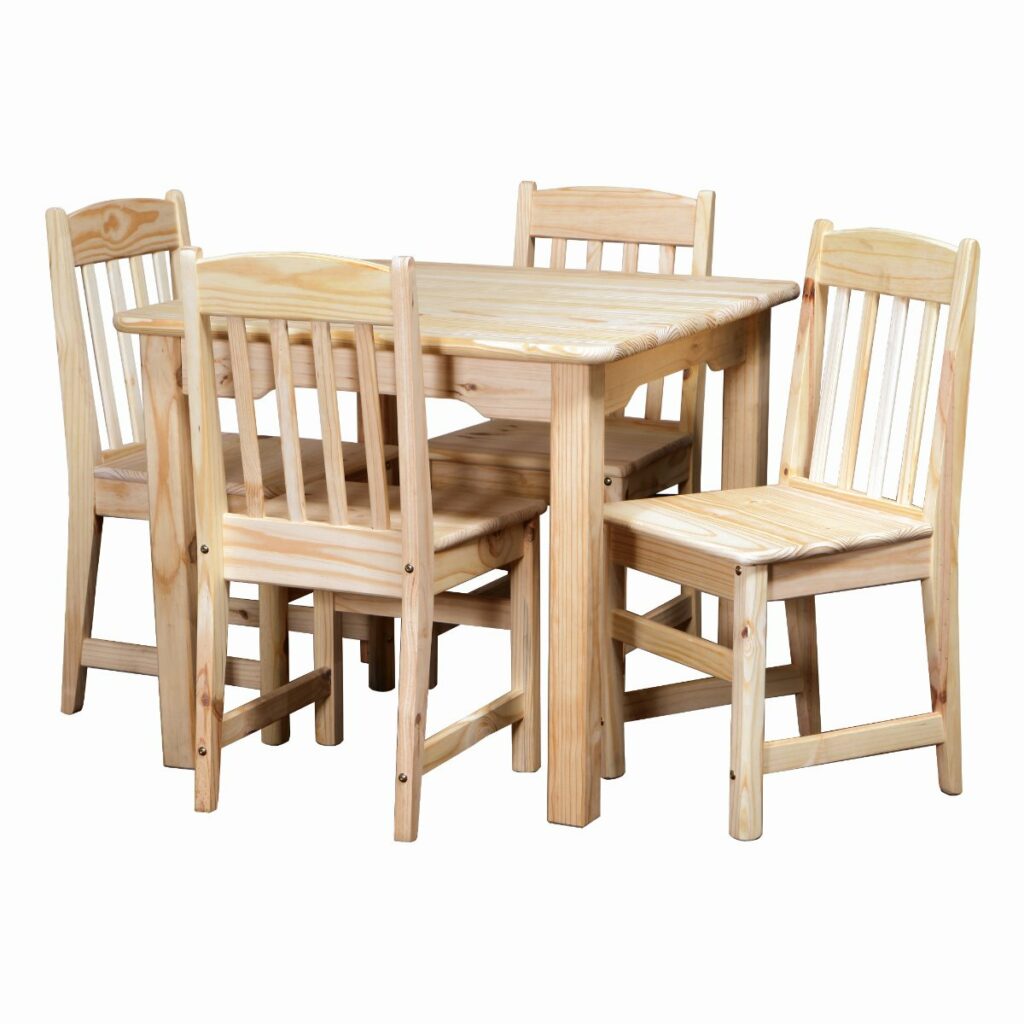 Fifty-Plus Years and Four Stores
With more than 50 years experience in supplying exceptionally affordable solid pine furniture to a loyal customer base, it was inevitable that our retail outlets would increase in number, in order to satisfy the demands of increasing numbers of customers. All ranges are available from all four of our stores – in Jet Park, Boksburg, Centurion – near Pretoria, and in our Pretoria outlets – at De Wilgers (The Willows) and in Pretoria West.
Affordable, Stylish Furniture
If you've looked at the prices of chairs recently, you're sure to be pleasantly surprised and delighted when you see what's on offer at Ericssons, for so much less. Loose or sets of dining chairs are known to be pricey when new, second-hand or obtained from vintage or antique stores.
Ericssons' chairs offer affordable, enduring style in solid pine – in raw, stained, painted finishes or, a later addition to the range, upholstered in a range of fabrics or popular, durable PU, which is so easy to maintain and keep in an "as new" condition. For the convenience of customers who fancy a bit of easy DIY, we also stock a range of chalk paints and stains.
In South Africa, chairs and other pieces made of pine were traditionally associated with cottage-style furniture, for which there is still considerable demand. Therefore, we've retained chairs, dining tables, dining room suites and coffee, occasional or side tables that feature elements of this pared-down style.
Because these features, such as turned table legs and spindle insets in pine chair backs, are subtly tweaked and pared-down, they are reminiscent of traditional cottage trends, but may nevertheless be combined very successfully with modern, stylishly simple but classic, "less is more" designs – also available at Ericssons.
Ancient Stools with Backrests
Although no one knows just when wooden stools were transformed into chairs by adding backrests, we do know that ancient Egyptians made use of the latter, which were usually ornate objects, particularly if made for a pharaoh or member of the wealthy classes. This form of furniture was also adopted by the ancient Greeks. As they did in many other spheres, the ancient Romans sometimes incorporated Egyptian decorative elements in their seating designs.
A Courteous Welcome
No home or office is complete without chairs. "Take a seat", "have a seat", "take a pew" or "please be seated" is a courtesy and may be seen as an indication that the person to whom the invitation to sit is welcome, but you don't have to visit Rome, Athens, Cairo or the Valley of the Kings to get your seating solutions.
Why would you go anywhere else, other than to Ericssons Mattress & Pine, to obtain affordable, sturdy pine seating, additional pine furniture and a great deal more with which to compliment your living space? We assure you, your welcome will be warm and sincere, and the great personal service we extend to our customers awaits you – at Ericssons.